About Upbeat Music Courses
WHAT DO WE OFFER?
We offer children an opportunity to experience a wide range of musical activities in a relaxed and fun way. Upbeat welcomes children of all abilities and no prior experience is necessary. We always challenge the more experienced children with technically demanding music and exciting performance opportunities. Our children develop skills and confidence on our courses and keep coming back for more!
MAXINE OWENS (BA Hons PGCE)
Max has loved music since the age of 5 and for the last 20 years has been passing on her enthusiasm to children, both as a Head of Music in London schools and as Director of Upbeat. Having graduated from University with degrees in Music and Education, Max set up Upbeat, with the aim of providing children with a fun and exciting music learning experience. She coordinates the courses and also teaches singing and keyboards!
HEAD BAND TUTOR AND SOUND ENGINEER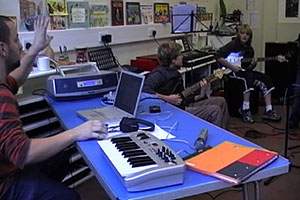 Steven Ashmore
Steve has been with Upbeat since the beginning and is our resident guitarist/drummer and Recording Technician. Steve has played in bands since he was 14, composed for television and now teaches music in schools across the South of England as well as working with Special Needs children.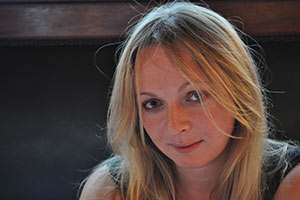 Kate Gardiner (Ba Hons MA)
Kate choreographs the dances and makes sure the Upbeat performances go with a swing! A trained dancer, Kate has worked at Upbeat for 11 years, alongside her career in the Film Industry which she entered into after completing her MA in Performance Arts.
Kyle Hall
Kyle has been a band tutor for Upbeat for the past 7 years, his 12 years in teaching include working as the Head of Guitar at Yamaha music school and a guitar tutor for Thomas's London Day Schools.
Alongside his teaching, he is also a very active musician with over 1000 gigs under his belt worldwide including various major festivals, radio and television performances. He has also embarked on many great tours and supported artists such as Band Of Horses, Roger Daltry, The Doves, The Human League, The Civil Wars, Top loader, The Sugar Babes and S Club 7.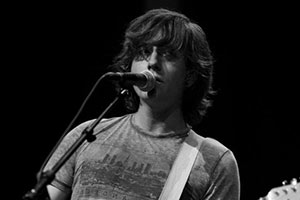 Dan Bell (BMus Hons)
Dan has worked with Upbeat for 8 years as a band leader, guitar tutor and recording engineer. Since moving to London from Dorset in 2005 to study at the London College of Music, Dan has been a busy session musician and music producer working for various songwriters and indie bands. His work as a guitarist has taken him all around the U.K, Europe and America, playing live at many national radio stations along the way. As a producer he has fronted numerous studio projects, with 20 Albums and E.Ps under his belt, and has had his work played on BBC radio 6, Radio 2 and XFM.
Lisa J Coates(BMus (Hons), MA Vocal Performance, DipABRSM ALCM)
Lisa is a professional singer with over twenty-five years performance and ten years teaching experience throughout the UK, Spain, Italy, Germany, China, Canada and the USA. She has been with Upbeat for 2 years, and previously worked as a Rock Choir leader, singing teacher and vocal animateur . In addition to this, she was the assistant director of Timeline Songs, organising and leading Heritage singing events throughout England. She has appeared on BBC Radio 3, The One Show, and Russian Channel One News with performances in venues such as the O2 Arena, Liverpool Echo Arena, The Southbank Centre, and The Sage.
Claire de Belloy (BA Hons, Trinity Diploma Singing)
Claire is a vocal coach for Upbeat and a full time singer songwriter called Queen Clairie. She has a first honour degree from the Guildford School of Acting in Musical Theatre, a Trinity College Diploma for singing teaching, and she previously trained in classical singing at the Conservatoire Debussy in Paris. She has also been developing the musical school of "confidence" in France with Fredonia.
Since then, she has been singing in France, on the East Coast of the USA and in the UK. And as an extra, Claire composes for commercials with Left Productions.
Seonaid Bowers
Seonaid took her first committed step into music by attending the Liverpool Institute of Performing Arts and then furthered her music talents at The Academy of Contemporary Music. Her passion for music has taken her onto a variety of stages such as The Royal Albert Hall, Wembley Stadium and numerous theatres across the UK. Seonaid runs after school clubs for Upbeat and is a dynamic and energetic addition to our Saturday team. She thoroughly enjoys sharing her knowledge with her students and watching their confidence grow as their voice develops.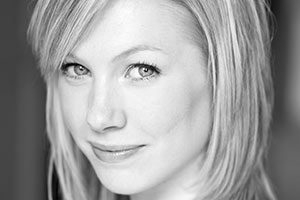 Amy Morris (Trinity Diploma Musical Theatre)
Before joining Upbeat Amy worked as a Dancer and Singer in Pantomimes, Musicals, Cruise Ship Shows, at Tokyo Disneyland and now tours with vintage girl act 'My Favourite Things'. When not performing, Amy's major passion is teaching. She has taught for many companies and a wide range of dance styles. She loves to see what the children gain from dancing and singing, and watching them learn and grow in confidence. Amy is thrilled to be part of the Upbeat team and looks forward to being involved in more shows and events!
Emily Ayers (BA Dance and Psychology)
Emily has been a member of the Upbeat team for the past 7 years. During this time she has taught all over London and the UK as well as in America and Australia. Emily dances professionally in the West End and on Tour and has recently performed in Sadler's Wells' The Snowman. In 2012 she was selected for The Olympic Closing Ceremony dancing alongside Darcy Bussell. Emily also choreographs shows in London and the UK and she brings her professional experience to the Upbeat classes she teaches.
Rebecca Struzyna (BFA Acting, Dance and Performance Studies)
Becca has been teaching dance for over 8 years and loves inspiring the Upbeat kids at our after school sessions and holiday courses. She started performing & studying at a local theatre at the age of six, continued her dramatic studies throughout high school and went on to attend California State University, Fullerton from where she graduated with her BA in Acting, classical ballet and musical theatre. After graduating she spent some time in Los Angeles before deciding to return to England to continue pursuing her acting and dancing career. She is incredibly passionate about her art and loves to share that passion with others, whether through performance, private tutoring or teaching at workshops.