Children's Saturday Music Lessons
Saturday music lessons for kids
POPKIDS 5 – 8 yrs
A fun-filled introduction to making music the Upbeat way. Sessions include singing, dance, rhythm games, percussion, songwriting, recording and performance. From year 3 upwards you will join the Popkids Senior band and get your first experience of playing drums and guitars! Develop confidence, learn new skills and make friends.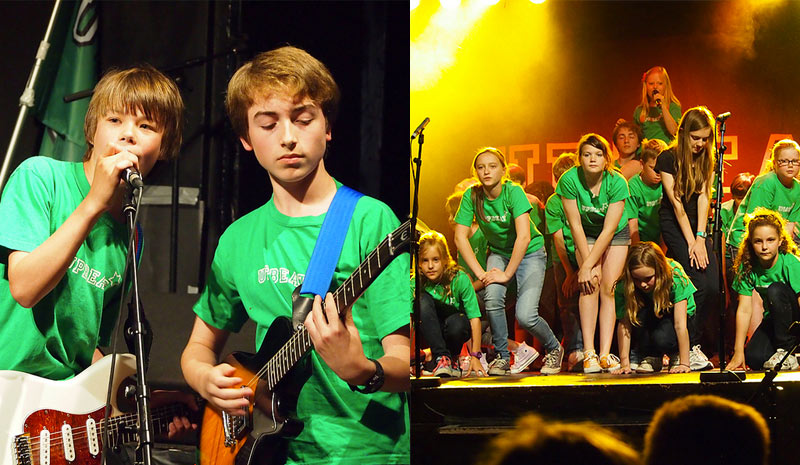 BAND SESSIONS (8yrs +)
Develop your singing, dance and instrumental skills in a relaxed but dynamic setting.
Sing as part of an Upbeat 'pop choir', learn some fab moves to support your on-stage performances and play in one of our junior bands. Get involved writing original material and performing a wide variety of cover songs!
Sound Production module also available for Year 9 upwards.
BAND SESSIONS PLUS (10yrs +)
Are you ready to join one of our Bronze, Silver or Gold bands? Keen instrumentalists and vocalists can audition for a place in one of our gigging bands. Take part in our annual Battle of The Bands and perform on-stage at venues such as The Half Moon Putney, The Troubadour and as part of our Upbeat Rocks gig at Imperial College.
What do the parents think?
"What a delight it has been to see my children grown in confidence and musical ability"
"Dance, singing, instruments and performance – Upbeat has it all. Yes of all, belonging to the Upbeat family is tremendous fun and that's what keeps my children coming back year after year!"

BOOK THESE SESSIONS
ONLINE!
Use our new online booking system to book your spot on an Upbeat Music Course!